The Oppo Watch Free is the latest smartwatch from the Chinese company Oppo. It offers interesting functions for fitness and health monitoring, a simple and modern design at an affordable price.
In design, the Watch Free reminds of a fitness band, but with more important dimensions given the large rectangular display, with a specially engineered 2.5D curved screen of 1.64-inch. However, it is lighter than you would expect with only 33 grams.
16.7 million colors
1.64-inch AMOLED
DCI-P3 100% Display color
326PPI Pixel density
It is 5ATM water-resistant thus offering excellent waterproof performance and extending usability in any circumstances.
The silicone strap is comfortable without annoying or causing irritation even when wearing the Oppo watch for a long time. The choice of watch faces is also interesting, offering more than 40 dynamic options and adapting quite well to various contexts and looks. With Light Painting, you can even draw your very own watch face with over a hundred brushes to choose from.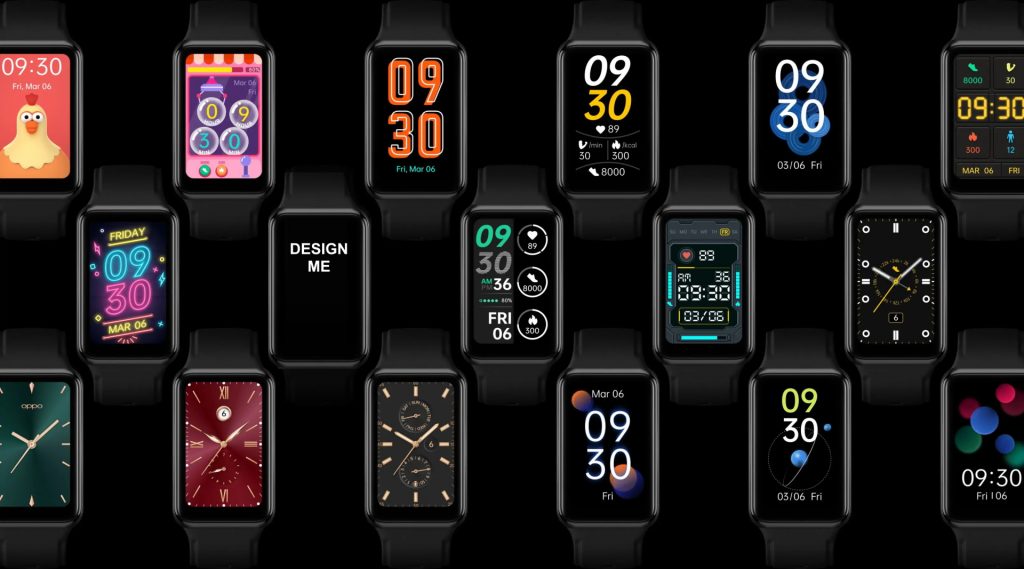 On the application side, the Watch Free has a proprietary operating system, very simple to use, which gives you easy access to the various functions, starting from the management of notifications and listening to music, to those dedicated to fitness.
The Oppo smartwatch keeps track of the number of steps taken during the day (with a good level of accuracy) and at the same time, it monitors the heartbeat. The watch can auto-detect four exercising modes: running, walking, rowing machine, and elliptical machine, and supports over 100 workout modes. It can also understand when you are doing a higher intensity activity, and therefore a potential training session, allowing you to keep track of your activity if you have forgotten to throw it by hand. In addition, there are four running courses included: Easy run, Fat-burning run, Endurance run, and Interval running.
Among the useful features for monitoring your health, the OPPO Watch Free offers a sensor for controlling oxygen saturation in the blood and monitoring sleep; in conjunction with the smartphone, the Watch Free also allows you to check if you snore at night.
Sleep monitoring is actually, in our opinion, one of its strengths as it monitors your entire sleep journey, from before, during, to after bedtime.
Before your sleep
Bedtime reminders and late-night reminders
Sleep cycle monitoring
During your sleep
Sleep Monitoring, Real-time SpO2 Monitoring
Heart rate variability Monitoring
After waking up
Receive a personalized sleep report, thus you can finally find out why you are not sleeping well.
OPPO Watch Free can record your phone use before bed and generate a report1 with a trend of screen time and sleep quality, giving you a glimpse into the impact of screen use on sleep quality. It also offers a sleep tool to help you reduce sleep disturbance caused by screen use and fall asleep quickly.
In Sleep Mode
OPPO Watch Free can activate its linked phone's Sleep mode, which mutes notifications and turns the phone's interface gray, making the phone less addictive. In addition, a bedtime reminder will tell you to put down your phone and go to sleep.
Moreover, it will track your sleep quality and will make a Snore Assessment that will combine your SpO2 and heart rate data to assess your risk of breathing problems.
Real-time SpO2 Monitoring
Heart rate variability Monitoring
Snore Monitoring
Another of the strengths of the Oppo smartwatch is certainly the battery life: the watch can last up to 14 days under typical usage and can charge up for the day in just 5 minutes, which truly helps for continuous monitoring.
The experience offered by the Oppo Watch Free is overall quite satisfying, and we consider it an interesting option for those looking for something more than a smart band but are not willing to spend a fortune. Sure, you must give up some features like integrated GPS, NFC and call functionality, but the price is certainly affordable. At the time of writing, it has a listing price of £ 89 on the Oppo Store and various buying options on Amazon.